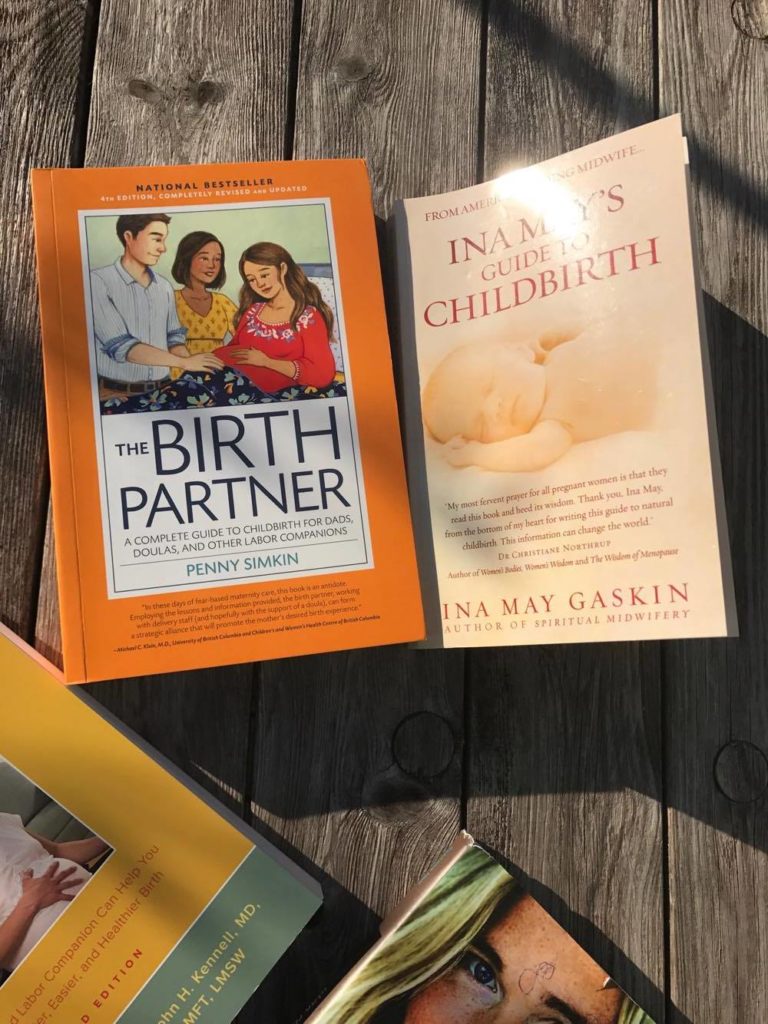 Imorgon på dagen räknas min graviditet som fullgången. Det är säkert flera veckor kvar tills barnet verkligen kommer, men det datumet känns ändå som en milstolpe. Och tänk att det äntligen har blivit november – månaden då vårt barn högst troligen tittar ut! Jag har en doulahelg kvar att gå på och just nu läser jag kurslitteraturen på nätterna då jag inte kan sova.
Ina May's guide to childbirth är en fantastisk bok att läsa inför sin födsel. Den ger ett historiskt perspektiv på The alternative birth movement. Första delen av boken är fylld med förlossningsberättelser som inte kan kallas för representativa för amerikanska kvinnor. Just därför vill Ina May berätta dem. Det är nämligen positiva förlossningsberättelser där kvinnor har fött antingen hemma eller på barnmorskornas birthcenter; i trygghet. Smärtor, rädslor, anxiety and fear har inte varit de dominerande känslorna under dessa födslar. Man kan bli mätt på förlossningsberättelser, men jag lovar – de här är så läsvärda. Jag kan inte slita boken ifrån mig.
Andra delen av boken tar upp hur Ina May och hennes team av barnmorskor lyckades med att få så många kvinnor att föda i trygghet med friska barn och så låg kejsarsnittfrekvens, sugklockor eller tångförlossningar. Alla barnmorskor med självaktning och bara ett litet sug efter mer midwiferyinspiration borde läsa Ina May's guide to childbirth.
Såhär kunde en alldeles vanlig sjukhusfödsel se ut i Amerika i början på 70-talet:
The birth of my first child in Manhattan was a standard-procedure hospital birth. I was first put in a room by myself, left to my own fears, and had my amniotic sac ruptured by an attendant. Then I was stuffed in a ward of screaming and yelling women in labor.

They proceeded to give me oxytocin to step up my labor. I was told to stay still. Because I sat up once, I was strapped on my back to the bed and scolded by the nurse on call, who said, "Stop trying to squat!"

A fluorescent light was set up to glare on me so the attendants could see when they came in. Because there was an air of assembly-line birth in that hospital, they left the light on and then left me alone to labor, strapped to the bed. After what seemed like days (it was fifteen hours) I felt the baby's head between my legs. I called to the nurse that I thought I was ready to deliver. I was whisked off to the delivery  room, had my feet put in stirrups and stockings, and given a standard-procedure episiotomy (klipp) -twelve stitches. The baby literally shot out of me, screaming and red, and was taken away before I could see what gender baby I had. Then they knocked me out with ether to sew up the unnecessary episiotomy . When I awoke, I was told, finally, that I had a healthy girl.

I tried then to breastfeed her but was given only twenty minutes which to do this. I was having difficulty, so I asked for some help. An irate nurse reluctantly tried to show me how to breastfeed. She squeezed my breasts roughly and declared that I wasn't the kind of woman who could breastfeed. When they took my baby down the hall to the neonatal nursery after this unsuccessful attempt, I ran after my crying babe. I caught up with the nurse and grabbed my daughter in order to comfort her. At this point, I was hauled off by a couple of ward attendants. They took me away from my baby, brought me to my room, and gave me a powerful sedative that kept me awake but unable to move. This was an incredibly traumatic experience. I came away from birth bruised and battered, drugged and ripped off of my nurturing instincts and sense of confidence. After such a trauma, I knew I would never again give birth under such inhumane conditions.
Gissa om det finns många kvinnor jorden över som fortfarande går igenom sådana här förlossningstrauman. Alternative birth movement eller positive birth movement handlar inte om att födslar ska vara smärtfria, så naturliga som möjligt eller helt okomplicerade. Men att de faktiskt – med rätt stöd på kvinnans villkor – kan upplevas som stärkande, begripliga och meningsfulla.
 Ina May's guide to childbirth går att köpa här!
Och kika gärna på vad POSITIVE BIRTH MOVEMENT gör i Stockholm.